I sell my juicy, cum stained panties
There are so many ways in which my panty gussets get soaked with my feminine juices. I am a highly sexed girl, and am always having sexy thoughts, which means that my pussy is often moist. I love the sweet sensations my body gives me, especially when I am wearing tight panties. Even the thought of one of my devoted buyers sniffing and licking the dirty stained gusset of the panties I am wearing can make me aroused. We treat each other well, my buyers and I.

One of my favourite moments of the day is when I go to bed, just before going to sleep. I love to tease my little rose bud with my fingers, making my girly juices start to flow. My panties automatically absorb the sweet nectar that continues to drip while I sleep and have such sexy dreams. In the morning, the panties feel warm and damp, and stick to my pussy. Maybe I will delay my shower, and continue wearing the panties for a few more hours as I go about my day. That makes the panties really stained with my pussy juice, mixed with my sweat and maybe a few stray drops of my morning piss as an added bonus. Such a fragrant yummy cummy girly treat, straight from this very sexy girl's pussy, for my lucky customer! he-he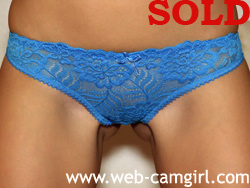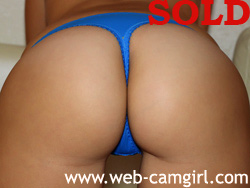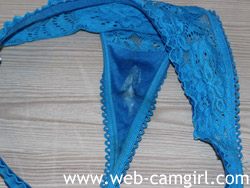 Item #0428 - $40
Nice blue thongs to wear for you ;) - E-mail me to order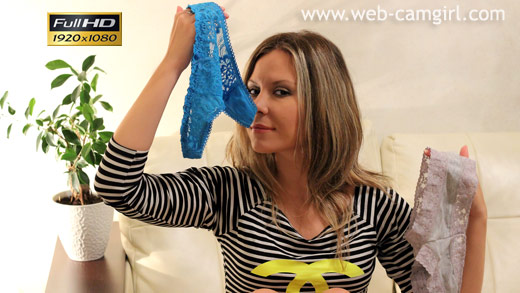 I can be out shopping for clothes, wearing tight jeans, and suddenly I feel the delicious pressure of the denim on my clitoris as I walk. I notice some guy eyeing me, so sway my hips a little more, and flick my hair back, completely ignoring him, but teasing him so cruelly so that his eyes almost pop out of his head LOL. It's so sexy to tease. Maybe when no-one's looking, I might gently rub my clit through my jeans, squeeze my ass cheeks, and push my hips forward to heighten the sensation. Needless to say, all of this makes me wet with precum and I feel my panties sticking to my pussy beneath my jeans. Then I go shopping maybe for sexy shoes and boots, maybe for jeans, maybe a new dress, with all the money you lovely guys keep sending me!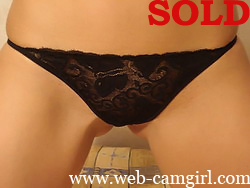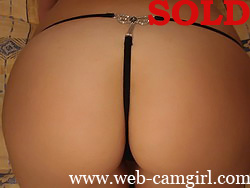 Item #0113 - $40
Stained black thongs. Black panties are the best to see the stains - E-mail me to order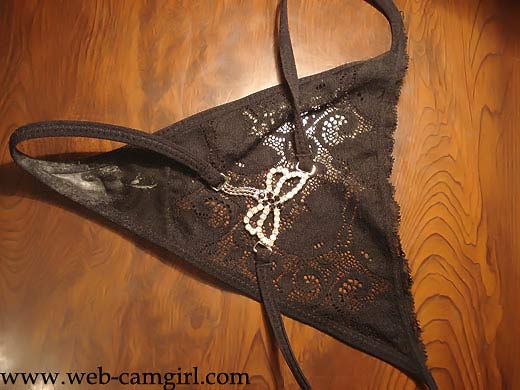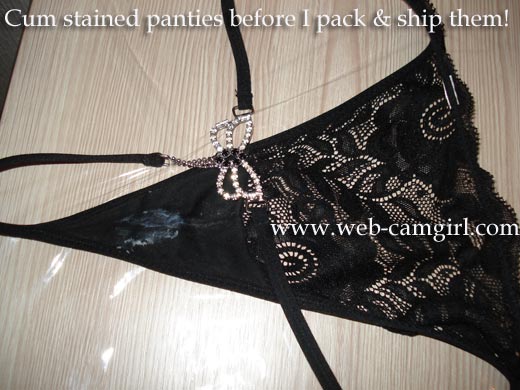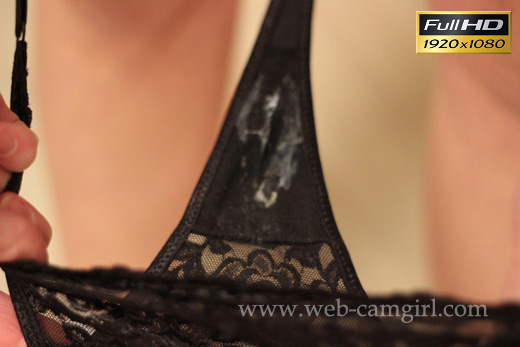 ---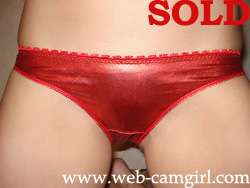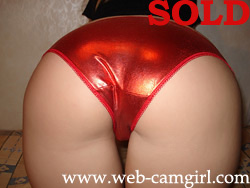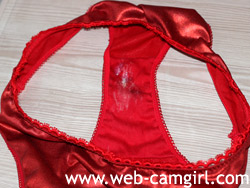 Item #0130 - $40
Really hot red shiny panties - E-mail me to order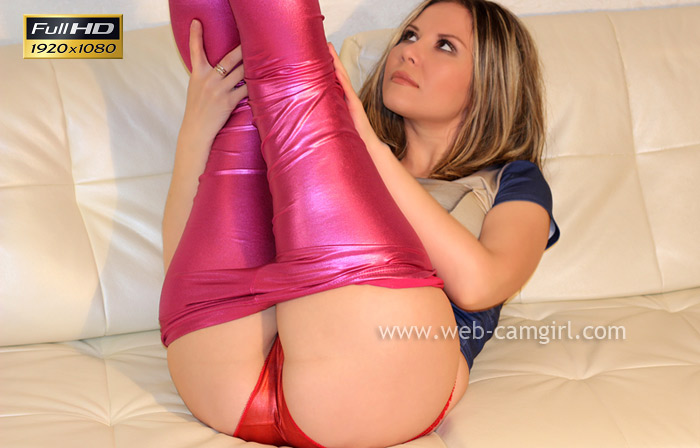 ---



You know that sweet musky smell of a girl when she is aroused and how it makes you feel towards the girl? Well, the male shop assistants can't do enough for me, and I soon have them wrapped round my little finger ;-) Maybe you'd like to be my 'personal shopper' and get really close to my magic scent? But be careful, you'll be trapped down there forever ;-) And when I get home with my purchases, and check my panties, they are very damp and getting nicely stained with my sweet pussy juice. Imagine how good that smells!! wink ;) I might have a pee and then play with myself for a while, making lovely cum stains in the gusset for my lucky buyer. I also enjoy pulling the panties really tight into the crack between my ass cheeks, which gives them a good natural ass scent.

I like to walk with my love-beads too, stuffing them up my vagina and walking around the house wearing just panties, maybe answering emails. My panties are usually soaking wet and stained with my pussy juice afterwards, a cummy treat for my lucky dirty-panty sniffing admirer!








All panty fabrics have their merits, but I would like to commend shiny satin material, as it is soooo easy for me to get wet just by walking around in them. One afternoon this autumn I went out for a walk in the woods wearing jeans with satin panties beneath. Sitting on a bench for a while to enjoy the autumn colors, I felt the sunlight warm and soft on my thighs and my face. It felt so sensuous that I parted my legs and started rubbing my clit through the jeans and panties. Instant moisture, and how the heavenly feelings mounted! Unsnapping my jeans, I pushed my hand inside and I kept rubbing, as no-one was around, and brought myself to a delicious climax, there in the woods with the leaves falling all around me. The buyer of those cum soaked panties certainly hit the jackpot that day ;)

Browse my ACTUAL page for all panties I have available for sale at this moment. You will be amazed by the other page of my panties I have sold since 2007. This page is slow to load, but it is worth waiting to see around 330+ (!!) pairs of my lovely panties. So when you buy my worn panties, you are almost certain to get them well stained with my dried pussy juices because that is the kind of girl I am. I'm always told they smell and taste divine! So don't be shy, treat yourself to a pair of my cum-stained panties. You can smell and taste me for yourself. You know how much you want to, so contact me NOW!


Cum stained pantyhose

Not only do I sell my juicy panties, but you guys also love to buy my stained pantyhose after I've rubbed my pussy and wiped the crotch area clean. Sometimes the stain is large, sometimes it's not so large, but it's always sexy and tasty! I suggest that you use steam (from a kettle maybe) to refresh my dried juices, and make the crotch area as moist and sweet smelling as if you'd just slipped them off my sexy legs! Here are photos showing a pair of tan/nude color pantyhose (wet and dry).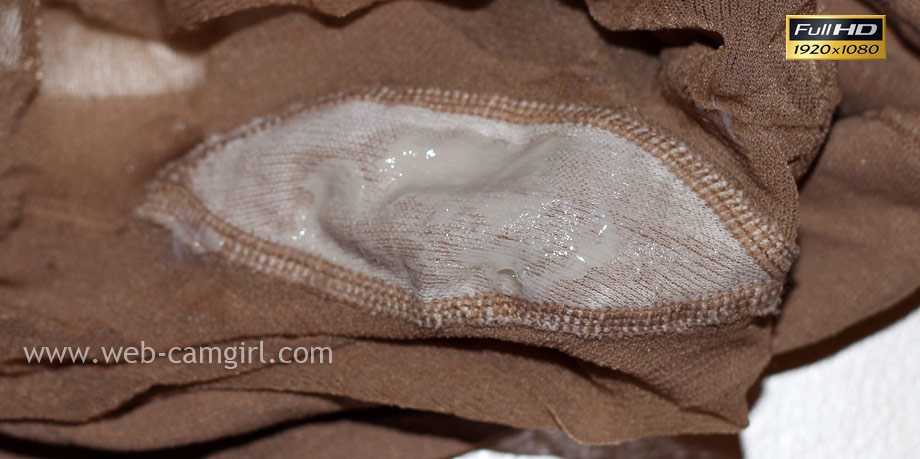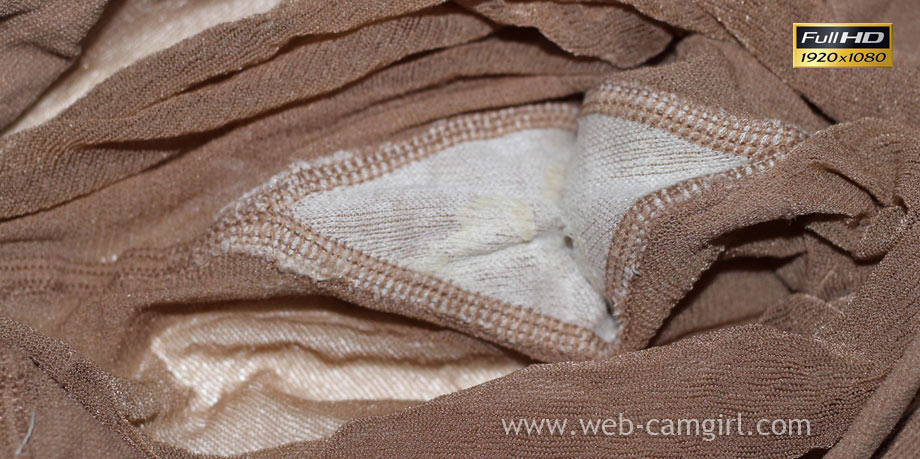 The crotch area stuck to itself with my juices, and I had to pull it open just a bit, to leave the other part to be opened by the lucky guy who bought them!


---