My Used Panties (upskirt) Affiliate Program!
I wish to create good business relationships with sites that can bring both of us revenue. I offer to pay you 50% of net new sales and rebills. If you have good nichy traffic, I can help you make more money from that.

For this to be most productive your site should have visitors into:

- upskirt
- dealing with a solo girl
- girls in panties, worn underwear, dirty panties, peed-in panties etc...
- girls in hosiery, socks, pantyhose, stockings, etc...
- worn clothing fetish

Contact me and let's discuss the type of visitors you have, and which of my pages would be of most interest to them.

I have been in this business since 2007, initially just as a used panty and other garment seller. In recent years I have expanded my range to include a successful Members-Only pay site containing videos and photos, and a 'Pay-My- Bills' section that also converts well. I get a lot of repeat visits. 25% of my website visitors are returning visitors.

My appeal stems from the quality of my online content, my good looks, and the way I make it clear that customers are dealing with a real girl, not just an impersonal processing machine. I have email communication with all Members, and regularly update the photos and videos, keeping the site fresh and active. I make integrity and honest dealing central to my project. My conversion rate is as below:




I have banners for each niche, and can send you even more banners with the size you need. I also provide specific landing pages to make the best match your visitors' interests. All this revenue is processed by Verotel. I will not share proceeds from worn garment etc sales, as most of my customers are long-term repeat buyers, and I no longer sell much to completely new people.

You will get 50% of my sales to your referring visitors (including rebills), after Verotel's commission, from customers who join my Members' Site or 'Pay-My Bills' section, who come to me from your site. All this revenue is calculated and processed independently by Verotel.


1. My referral personal programs

2. Webcam referral program I use


Payout screenshots (to show that it works).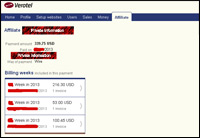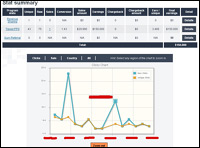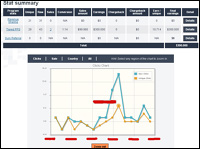 How to start?


1. Click to create a FREE personal account on Verotel.

Memberships reselling:


Pay my bills reselling:



1. Click the button to register a personal account and get a free $150 bonus for joining!!

Click to register in affiliate program

2. Use your personal link to use it on your websites.

http://links.verotel.com/cgi-bin/showsite.verotel?vercode=12345:YOUR_VEROTEL_ID


2. Use your personal link to use it on your website and start sending the visitors to the promoting site.





I have many banners, free hosted galleries to use. Just let me know the size and orientation to best match your design. Here is the other page with many more banners. Feel free to contact me for the special banner you need to best match your design!



Sign up rate for the last 3 months:
1:893
1:685
1:720