Story #5. Guy's masturbation story about licking my juicy green panties.
When I returned home I stripped naked, brought up your web-camgirl.com, opened the package, removed the panties and took a look at them. Such a pretty shade of green, shiny and all, making me hornier and hornier as I played with them in my hands. Clicking on your used panties I quickly found item #0315, clicked on your video of you putting them on and playing in them.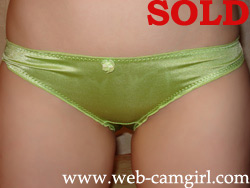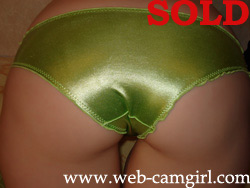 Getting pretty hot by now, I had to taste you and slipped the panties you had been wearing at one time right over my face, with both my nose and mouth in your cotton crotch and began sniffing and licking, watching the video of you in them, and stroking my hard cock. The more I sniffed and licked the wetter your panties got, the more sticky and creamy they became, and the harder and faster I masturbated, really beginning to taste you, fantasizing that I was licking your pussy, all the while extremely, sexually thrilled to know that these were your pretty, pretty panties that I had on my face and this was you I was tasting, lost in your video, pleasuring myself, legs in the air, tightening every muscle in order to prolong the pleasure, until finally letting go and shooting a load all over my stomach, heart racing, sweating like a pig, breathing hard, and trying to calm down.

Fifteen minutes later I had to pick the panties back up, draped them over my cock, loosely gripped my cock and slowly began masturbating, simply enjoying the sexual pleasure of your panties gently rubbing up and down the vein on the back of my erect cock and over the ridge around the head. OH MY GOD DID THAT FEEL GOOD and of course I exploded a second time.